Featured Artists da Sonicbids - Novembre 2009
ARTISTA SELEZIONATO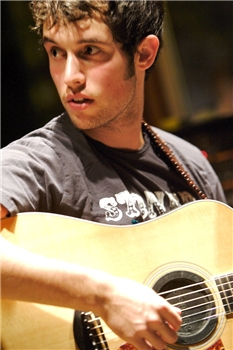 Michael Greenberg
Il cantautore del Connecticut Michael Greenberg ci presenta un pop acustico imperniato di elementi prevenienti dal rock, dal folk e dalla bossanova e caratterizzato da melodie orecchiabili.
Dopo aver suonato con numerosi artisti del nord-est statunitense, tra i quali Tim Reynolds, Ben Taylor, Keller Williams, Disco Biscuits, Braddigan and Pete Francis (Dispatch), Edwin Mcain, Josh Kelly, Blue Oyster Cult, Brian Vander Ark (Verve Pipe), Jeffory Gaines, Livingston Taylor, The Breakfast e Jeff Timmons, nel 2005 Michael ha iniziato a registrare il suo primo album da solista "The Truths of Bees and Birds". Nell'estate del 2007 è andato in tour per il nord-est degli USA come partecipante della serie Border's Book and Music Store New Musician. Sempre nel 2007 ha iniziato a lavorare con la manager Inga Vainshtein, che è conosciuta come la manager che ha lanciato la carriera della famosa cantante folk Jewel.
Attualmente Michael sta registrando il suo nuovo album e va in tour con la sua band. Anch'egli cerca opportunità per approdare in Italia.
Link per saperne di più ed ascoltare qualcosa:
http://www.michaelgreenbergmusic.com/
http://www.facebook.com/home.php#/pages/Michael-Greenberg/6854341373
http://www.myspace.com/michaelgreenbergmusic
http://www.youtube.com/watch?v=i0wORi5HzyY